Patented Technology
Trust in the reliable technology of original TOPROL-XL
Original TOPROL-XL® (metoprolol succinate) has been manufactured with quality and commitment for more than 20 years.
Once-daily TOPROL-XL is a beta-blocker indicated for the treatment of hypertension, alone or in combination with other antihypertensives.1
Both TOPROL-XL and its authorized generic* use a patented extended-release technology2
TOPROL-XL and its authorized generic,* metoprolol succinate (distributed by Par Pharmaceutical), are available in extended-release tablets with oral administration, providing 24-hour hypertension treatment with 1 dose daily.1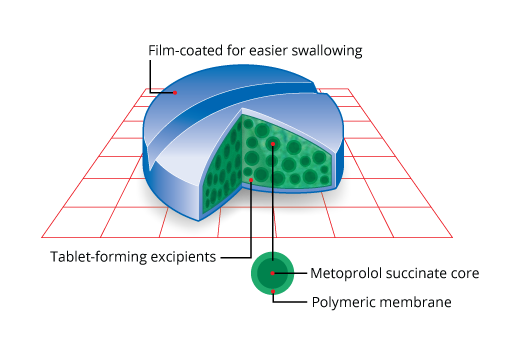 *Manufactured for Par Pharmaceutical Companies, Inc by AstraZeneca AB, Södertälje, Sweden.
Mean steady-state plasma concentrations3
TOPROL-XL maintained consistent plasma levels vs immediate-release metoprolol and immediate-release atenolol over 24 hours.3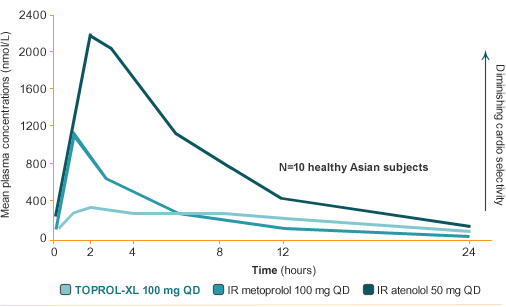 Copyright ©1990 by The Journal of Clinical Pharmacology. Adapted by permission of SAGE Publications.
Metoprolol is a beta1-selective (cardioselective) adrenergic-receptor-blocking agent, and at higher concentrations it also inhibits beta2-adrenoreceptors1
Dosage and Efficacy